Delivering
Conventional
Exhibition Experience
Digitally
H-Expo is a virtual exhibition platform equipped with all modern tools and 3D exhibition walk through providing virtual amenities such as Exhibition Hall, Domes, Stalls, Auditorium, Help desk, Waiting Lounge and more with mobile experience, OTP based security and live dashboards for visitor movement tracking
Why H-Expo for your next Event?
3D WalkThrough
We have design a virtual experience of all the amenities which reminds user of old days when he use to visit the exhibitions physically.
Product Showcase
We have in depth product showcase option in compare to any other peer players in the market with product privacy and product wise order and inquiry placements.
Designer Stalls
We have amazing stall design options available with advance features such as LED TV, GIF Banners, Clickable Banners, Quick Contact and more.
Advertising Space
We have kept and advertising space at every important part of the all amenities to provide better visibility and trafc to the advertisers.
Communication Channels
We have integrated multiple popular video calling tool to do the private calls / meetings and we also provide all other modern day communication channel.
Networking
Our platform provides a great opportunity to exhibitors and visitors to do the networking with each other via our various tools.
Dashboard & Live Visitors Tracking
System provides tools to better engage the visitors by it's visitor tracking tools available for exhibitors and organizers along with the informative dashboard and analytical reports.
Broadcasting
H-Expo is equipped with the audio and text broadcasting tools as well which we make available to the event organizer.
Security
Our platform is highly secure working on OTP based login and runs on proven hack free servers and back end technology.
Scalability
H-Expo is highly scalable and able to manage any number of exhibitors, stalls and visitors at any given point of time.
Performance
With the help of the CDN (Content Distribution Network) and it's compression mechanism H-Expo's performance is very quick with almost zero down time.
Mobile Experience
H-Expo is a mobile friendly platforms work well on all modern day smart phones and tablets.
Email & SMS Notification
Various event based email and SMS notification could be configured such registration and login details, OTP (one time password), Inquiries etc.
Referral Link
Each stall wise unique exhibition invite link is getting generated to track how many visitors have registered through which exhibitor.
Auto MIS
Auto MIS has been delivered via email to the organizer and exhibitor at the end of each event day.
Create a new age
virtual exhibition
experience
We have designed exotic 3D exhibition hall (interior & exterior), Auditorium, help desk, stalls and more to deliver high end expo experience to the visitors.
Interactive & 3D multimedia user experience
Variety of expo amenities touch points
Networking opportunity
Personal preference management & briefcase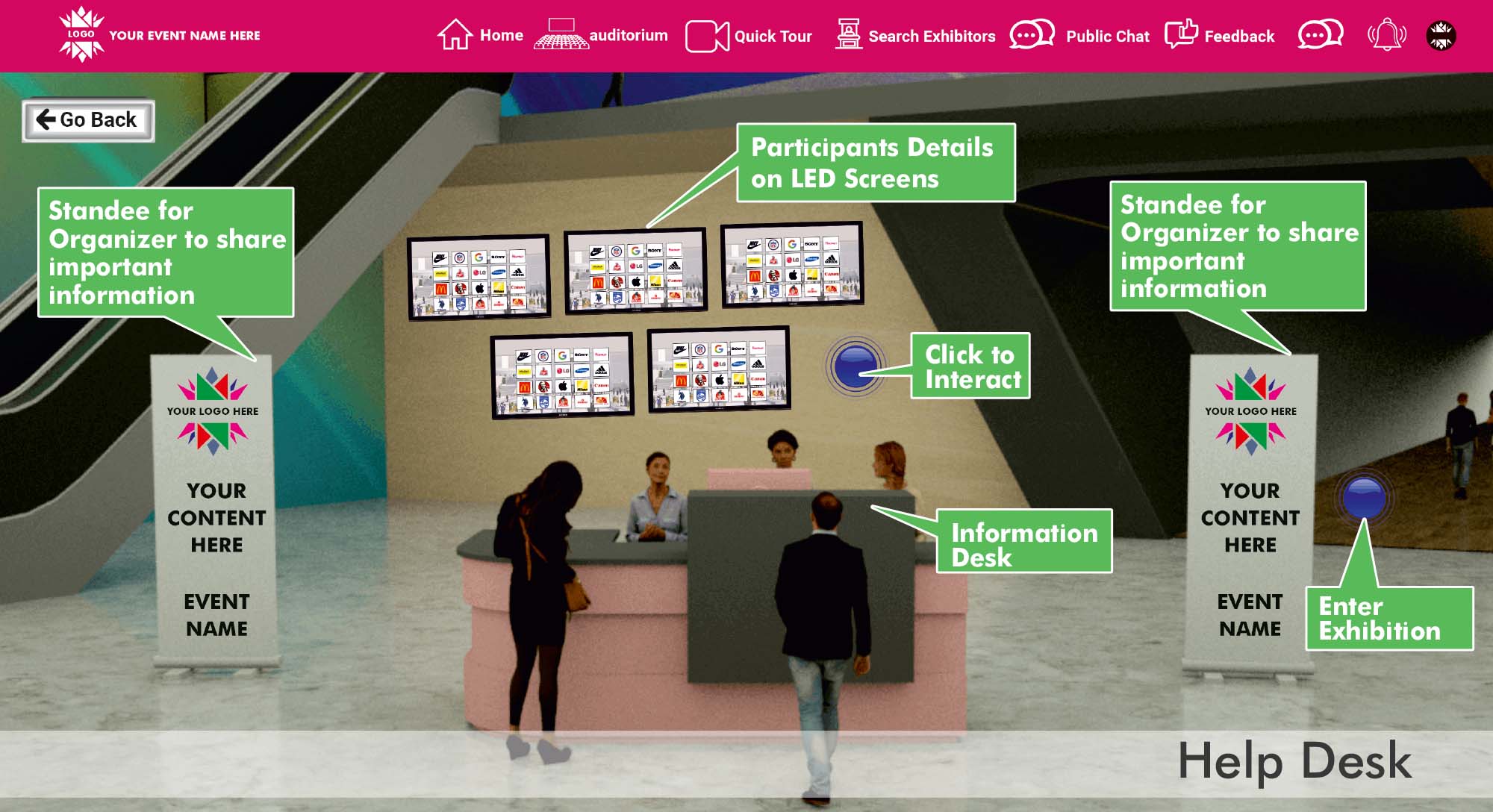 Interactive Branded Stalls
for the Exhibitors
H-Expo is having variety of attractive stalls available to engage the audiences and convert them into leads and business. H-Expo is having a facility to invite multiple executives from the team to exhibit and host marketing collateral and products display.
LED & TV & Clickable GIF Banners
Live chat & Video calling
Product portfolio
Multiple Executives
Downloadable Collaterals
Clickable Banners
EXHIBITION STALL (TYPE-1)
EXHIBITION STALL (TYPE-2)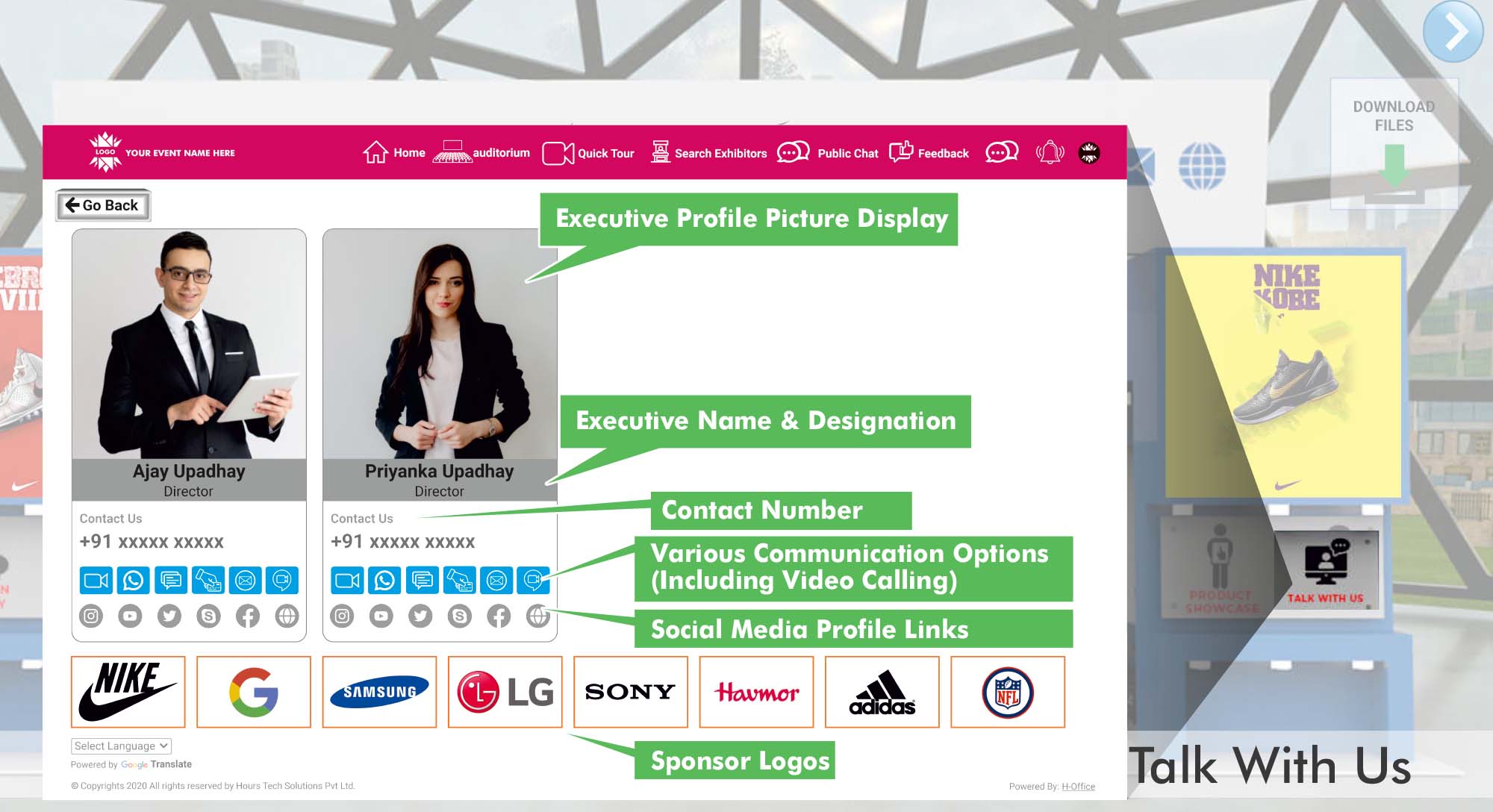 First ever virtual expo
with in depth
product showcase
H-Expo is having in depth functionalities for those who want to sell / showcase their products on their stall in a virtual expo.
Product categorization
On request product access &
exclusive collection management
Product level order and inquiry booking
Product gallery with detailed information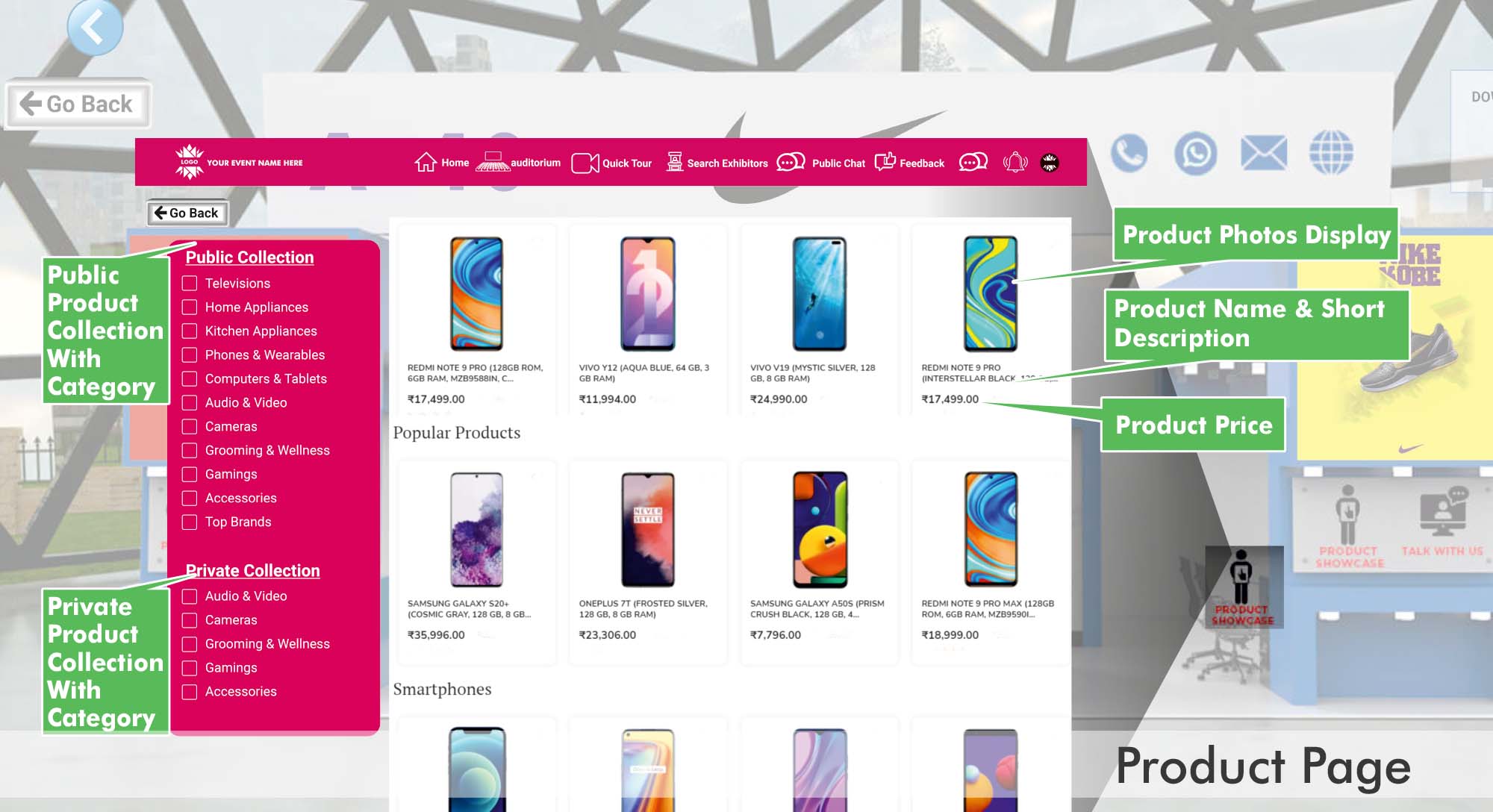 VIDEO CALLING & VIDEO CONFERNCING
Popular Video Calling&
Video Conferencing
Tools Integration
H-Expo has integrated Google Meet, Zoom & Skype to provide seamless video calling and video conferencing facility on stall level along with the in-build video calling tool of H-Expo.
LIVE STREAMING & VIDEO EMBED
Live Steaming &
Video Embed
in Auditorium
In the auditorium section in H-Expo, event organizer can conduct various interactive live sessions and share the pre planned agenda with the visitors, also there will be the availability of downloadable content and pre recorded videos option to engage the audience.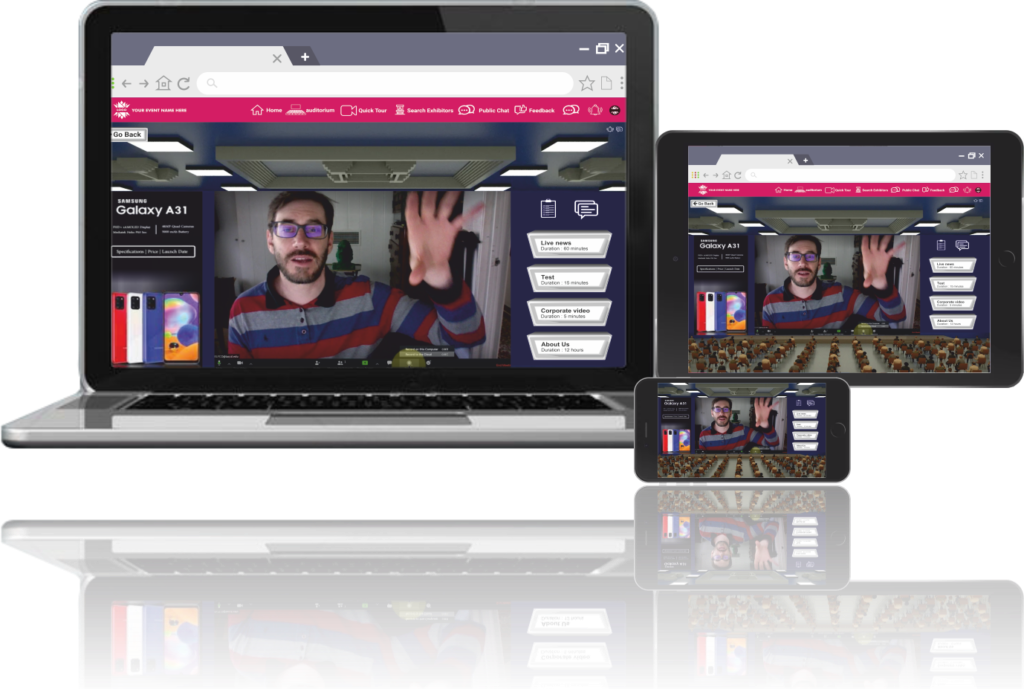 Exhibit your strength
Engage well with our
powerful exhibitor tools
H-Expo provide comprehensive exhibition tools on stall level along with the powerful communication tools to better engage the interested buyers and convert them into the sales.
Exhibition panel with dashboard & live visitors tracking
Stall branding
Multiple executives to content with the interested buyers
Live chat, video calling and other important contact tools
Comprehensive product showcase
Social media & web links
Stall Settings
Who We Are
H-Expo is a product of Horus Tech Solutions Pvt Ltd, we are dealing into IT software solutions since over last 2 decades and we have used our flagship CRM & ERP product H-Office in the back end of the platform to provide the enterprise grade infrastructure to host the virtual event on H-Expo.
500+ exhibitors exhibited till now
Exhibitors and marketers of different sizes from different segments and industries have chosen our platform to showcase their brand virtually.